Кликните на ссылку чтобы прочитать - РУССКОЯЗЫЧНУЮ ВЕРСИЮ.

Last weekend Dmitry Mityaev won the Skyrunning World Series race Odlo High Trail Vanoise (70 km D+5350), becoming the first Russian athlete to reach the highest podium position in this series.
We asked Dmitry a few questions after the race.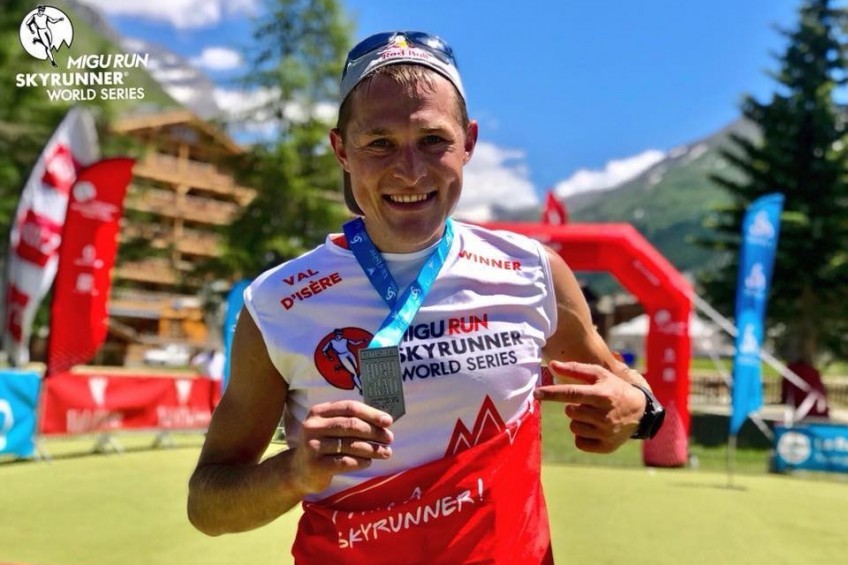 "
"I race with myself, not with my rivals."
TRAIL-RUN: I must say, the Skyrunning World Series winner shirt looks very nice on you. Has it been calling your name for a while now?

DMITRY: Thank you very much! Yes, I've had my eyes set on this shirt for some time. I've had opportunities to contend for it during previous races, like Ultra Pirineu или Trancvulсania, but I guess I didn't have the right mindset to fight for the win, so I had to settle for second place. Of course I am thrilled to have finally won, but winning is not the most important thing for me in trail running! I love the mountains and enjoy being out the course during each race. This time I just happened to be slightly stronger than my rivals, even though I decided from the start that I am only competing with myself and sticking with my own schedule.
TRAIL-RUN: Winning isn't the most important thing? I find that hard to believe. An athlete of your level can't not be ambitious, and nothing feeds ambitions as much as winning or placing near the top of the podium.
DMITRY: I just have a different attitude about it. I try to give it my all, but if I lost, it just means I wasn't ready. I race with myself, not with my rivals.
TRAIL-RUN: How do you feel, winning such a prestigious race as High Trail Vanoise?
DMITRY: It's a big honor for me. I am very happy that my first victory happened in Val d'Isère, during this particular race and in such difficult conditions. It was real skyrunning, what I love most.
"
"We are very grateful that people are following and rooting for us, but we don't consider ourselves stars!"
TRAIL-RUN: You are the first Russian athlete to win a race of the World Series. And in general, you and Katia (Ekaterina) are the first from our country to reach podium positions of such iconic races as Marathon du Mont-Blanc, Transgrancanaria, Ultra Pirineu, Transvulcania… How does it feel to be first "discoverers"?
DMITRY: All these races that you listed have an amazing ambience. You cannot get the emotions that you get there anywhere else. That's why we only compete in the top competitions! It's nice to be first, but it's not why we are doing it. It's just our preferred lifestyle – to race the most beautiful races and to cherish each moment of life.
TRAIL-RUN: Is it hard to compete, knowing that the whole country is watching you? Is it daunting to misstep, to not meet expectations?
DMITRY: We are very grateful that people are following and rooting for us, but we don't consider ourselves stars! That's not a thing in trail running. We all stand on the same starting line, amateurs and professional runners alike, and we all are trying to reach our own goals. That goal could be to win, or to just finish a race, and that's what's beautiful about our sport! And missteps happen, that's just life. There are no big victories without big losses! So we are not afraid of having a temporary rough patch. And we hope that those who follow us would understand and support us!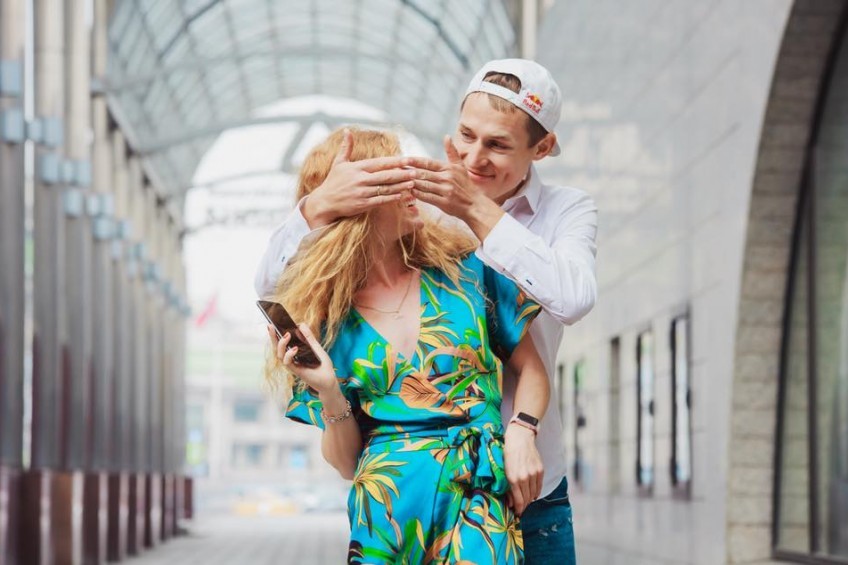 "

"Our motto is that every day needs to bring new emotions!"
TRAIL-RUN: What is the life of a professional athlete such as you and Katia?
DMITRY: Our life is very intense, since besides training and racing we also work as coaches in our project, the Trail Running School. That takes up a lot of time and energy. For example, after the last race we only managed to sleep 2 hours in two days! That's how much work had piled up.
But besides that, life is very exciting, and we are blessed to live as we do. We try to spend every minute with purpose. Our motto is that every day needs to bring new emotions! Each day of training, each race, to us are positive emotions. Even more so is our Trail Running School, which helps people reach their dreams and goals. We think this is what can make one happy and what keeps life meaningful and interesting.
When we first met, we wanted to stay in sports, but we also needed to make a living, and we quickly realized that we cannot rely on anyone to support us, especially not the government. We worked as coaches for a few years at a Sports School for Youths, sold gear at race expos, but we understood that this was no way for us to reach our athletic and life goals. Four years ago, we began looking for a sponsor. It was not easy, we had to write hundreds of emails, make presentations, etc. We had no money, so we took out loans, slept on park benches before races…
And finally, we got lucky - adidas TERREX believed in us, and it will soon be 4 years that we are together! adidas TERREX is more than just a team or a sponsor to us, they are part of our life, and we are very grateful to them for all that they have done for us, and continue doing. The most important thing, we learned, is to keep trying! To work towards your goal, and sooner or later, you will reach it.
Right now our life consists of usually two workouts a day, constant coaching work, events with our sponsors, and non-stop travel! Workouts usually take up 2-6 hours every day, work 6-12 hours, and we love it.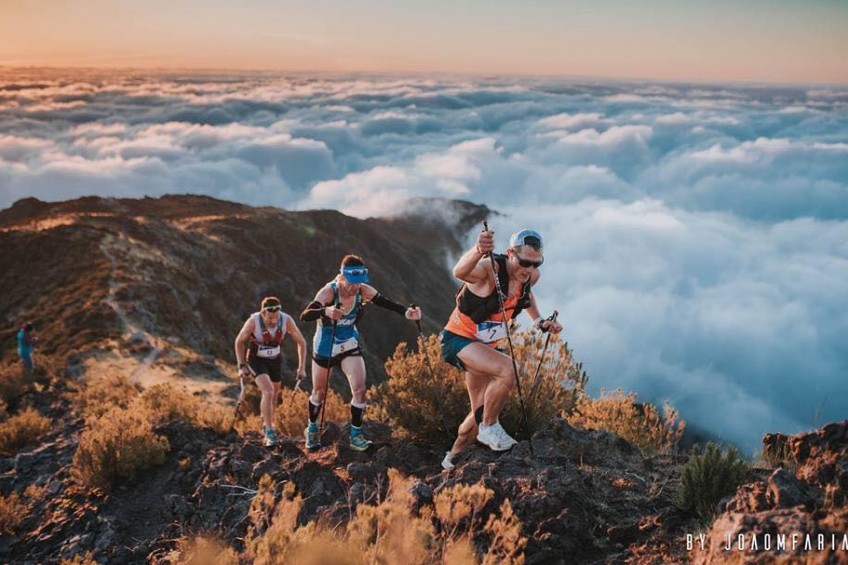 "

"I am always genuinely happy for my competitors' victories."
TRAIL-RUN: Is it psychologically difficult to be under such a load?
DMITRY: Yes, psychologically it can get very difficult. Long travel, a tough training cycle, etc. can really bring down the nervous system. Overtraining syndrome usually begins with nervous system overload. Your mind crashes first, and the body follows. But we try to avoid that as much as possible. For example, we go somewhere nice close to the sea, or take an extra rest day. Treat ourselves to something nice.
TRAIL-RUN: George Orwell once said, "Serious sport has nothing to do with fair play. It is bound up with hatred, jealousy, boastfulness, disregard of all rules and sadistic pleasure in witnessing violence. In other words, it is war minus the shooting." What do you think about that? Do you feel like a modern-day gladiator when you toe the start line? Do you feel hatred towards your competitors? Do you think anger is a necessary emotion to win?
DMITRY: That's a terrible quote, definitely not about our sport! I am always genuinely happy for my competitors' victories. With regard to the elite trail runners, everyone who I've met or trained with is very kind and respectful. We are all friends, and are ready to come to each other's aid. I did a bit of track in the past, and there this quote may be a more accurate description. But even in road running, it is not so.
TRAIL-RUN: Can you give an example when your fellow athletes aided you on the course?
DMITRY: So far, I have not needed help, but there was one case when I fell on the course, and the whole lead pack slowed down and asked whether I was all right. I got up and we kept going together. This is really valuable!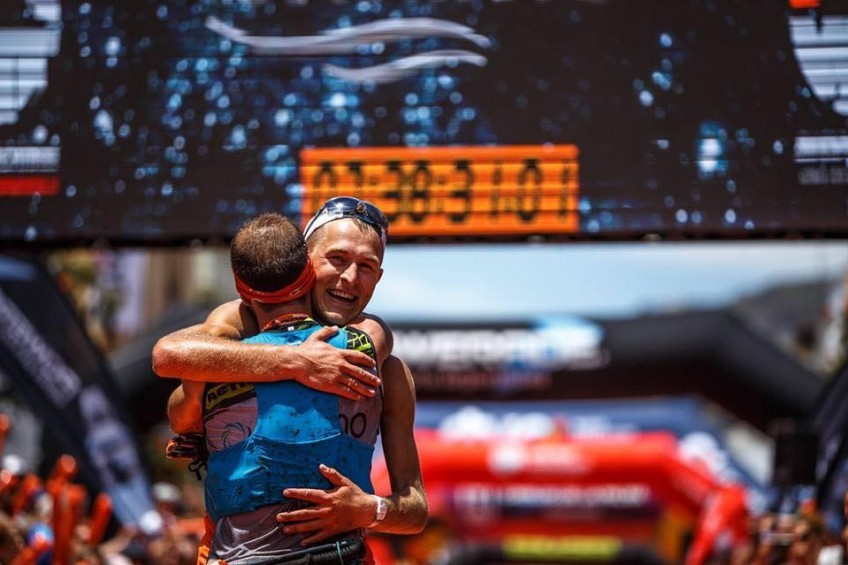 "

"We are always open to communication."
TRAIL-RUN: But do you ever feel angry? What can make you lose your temper?
DMITRY: I don't ever try to feel angry. If I need to step it up during a race, I think about those who are following and rooting for me, and remember all my hard training days. But this isn't anger, just a little extra motivation. In life, I sometimes get angry, usually from false statements about my friends.
TRAIL-RUN: What about false statements about you? Do they upset you? In general, does social media influence your psychological state?
DMITRY: I try to not let it bother me, but it leaves a bit of a residue, of course. There have been a few false rumors about me, and of course it's always unpleasant. Unfortunately, people often first speak, then think. Or write something, and only later try to verify it through third parties. I think before assuming something or criticizing, you should always do your research first, or better yet, just ask us firsthand. We are always open to communication.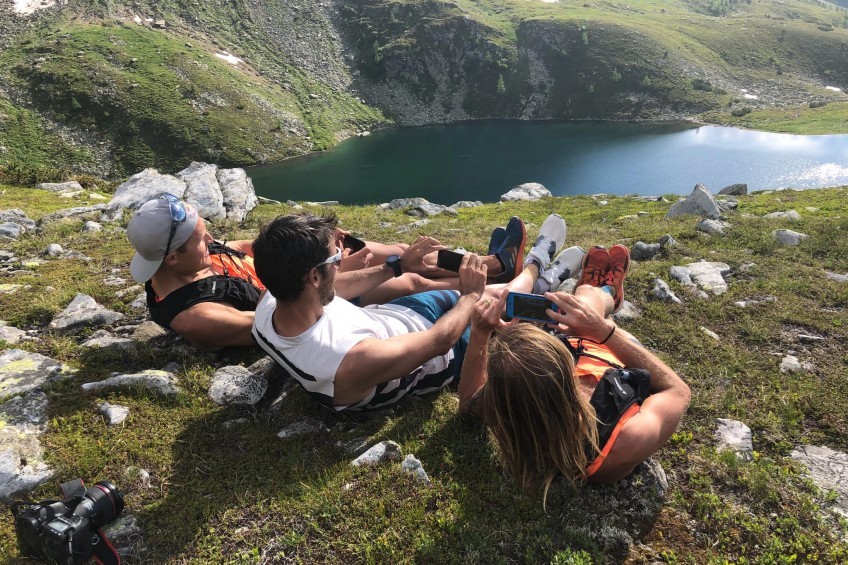 Dmitry Mityaev, Luis Alberto Hernando and Timothy Olson.

"

"We try to learn from the mistakes of others!"
TRAIL-RUN: I know that you became friends with Luis Alberto Hernando, you train together on the adidas Terrex team. What is he like in life? What do you talk about? Do you share training secrets?
DMITRY: Until this year we haven't really communicated much outside of races, but this year we trained several days together at the Fuerteventura adidas Terrex training camp and became good friends. Even despite somewhat of a language barrier, we understand each other well. I'll be honest, Luis is my role model in trail running, I aim to be like him, especially in terms of race strategy. He has graciously shared his experience with me, for which I am very grateful! And in general, he is a very easygoing and upbeat person. He is always making jokes.
TRAIL-RUN: It is common to see young promising athletes make a brief "splash" on the ultra-running stage, winning a big race or two, setting a world record, only to never be able to repeat their previous success. Are you afraid of "burning out", and how do you plan to prevent that from happening?
DMITRY: Unfortunately, that is often the price you pay for the inconceivable loads of ultra-running. Injuries or other minor setbacks happen to everyone, we are all afraid of them, but they are temporary and treatable. But I think those major crashes that you mention are less a consequence of too much racing than they are of rushing the training progression. When you try to jump several stages at a time. There is always the temptation to do that, to reach deep into the reserves of your body and hope that it will carry you through. But we try to be very careful. We try to learn from the mistakes of others!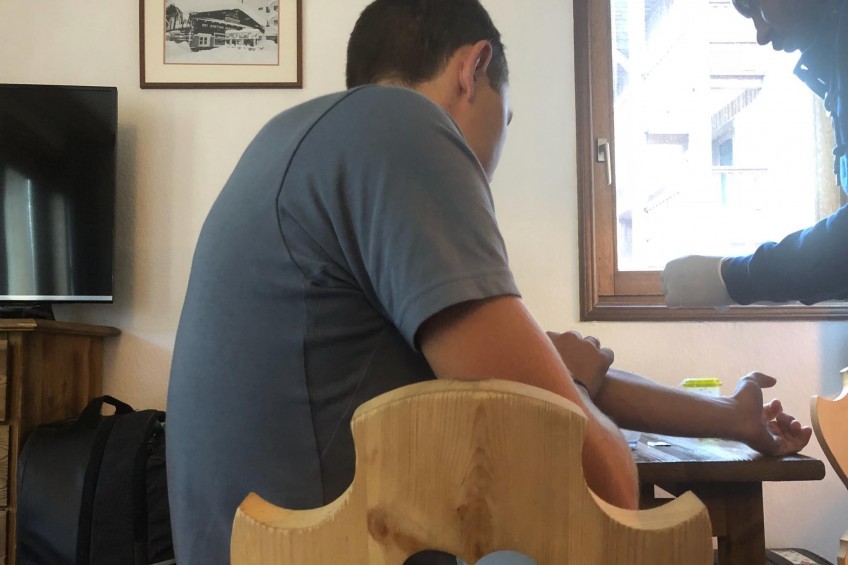 Doping control.

"

"...but starting this year we are part of the test pool of WADA's ADAMS program."
TRAIL-RUN: There is a common notion that big sport is impossible without performance enhancing drugs, that many sports are actually a "chemist Olympics". What is your experience with doping?
DMITRY: It is unfortunate that many disciplines of Russian athletics are sunk deep in doping. All of these scandals have shaped the public opinion that there are no victories without doping. That everyone is "dirty". And that is terrible, of course. It is has horrible consequences for the clean athletes, in the shape of distrust from fellow competitors, banning from competitions, rumors and gossip, etc.
Even in previous years, we were tested up to 10 times a year, but starting this year we are part of the test pool of WADA's ADAMS program (Anti-Doping Administration & Management System). We have to list our whereabouts, training locations, medications, etc. for three months in advance, and at all times be available for testing. Of course, it is an additional hassle, but to support clean sports and gain trust from the community, we are happy to be included in the pool. For example, in the last two weeks, as we were training for the race in Val d'Isère, we had to give blood and urine twice for analysis.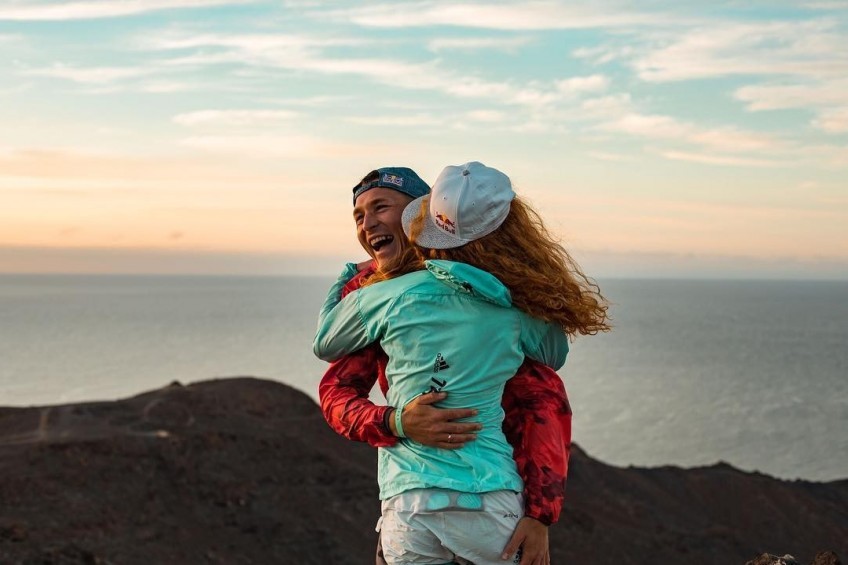 "

"I just need to perform well during one more race, and I will win the series."
TRAIL-RUN: You injured your knee earlier this year, how is the recovery coming along?
DMITRY: I've definitely had bad luck with the knee this year, since February I'm constantly getting it injured. Just as it recovered from the first injury, in the beginning of May I pulled a tendon. I was trying to be careful with it, but 10 days before Transvulcania I had a bad fall during our Trail Running School training camp. This resulted in a partial tear of the meniscus and a tear of the tendon. I didn't have time to rest it, so I just kept training though the pain.
It was just starting to heal again, but a few weeks ago I was running an interval workout in Austria together with Luis Alberto, and I pulled the tendon again. I thought that was the end of it, I won't be able to race in Val d'Isère… but the physical therapist of our team was very good, and Eduard Bezuglov (the doctor of the Russian national football team) gave me strengthening exercises and anti-inflammatory medication. So I was able to recover enough to race practically without discomfort. Now I'm going to rest it a full week to let it recover properly.
TRAIL-RUN: How do you estimate your chance to win the "Ultra" category of the Skyrunning World Series this year?
DMITRY: After Val d'Isère I think my chances are very good, I hope that it will happen. I just need to perform well during one more race, and I will win the series. It just so happened that this year I have a much more stable performance than the other guys fighting for the title. Some DNFed in Val d'Isère, others didn't perform so will, so my chances really went up. I would also like to contend for the overall Skyrunning title. I am also leading that ranking at the moment, but I am trying to reign in my ambitions, save that for next year.
TRAIL-RUN: And finally, what are your plans for the rest of the season?
DMITRY: Now we will spend a week on the beach, swimming, relaxing, and doing a bit of toning strength work. After that I will start to train for the second half of the season. In the next days I will decide whether I want to race the Tromso Skyrace or the Elbrus World Race, or perhaps neither of these. In the beginning of August we will travel to France again to train, at the end of the month Katia will run Trofeo Kima, and I will run the UTMB-TDS. Then possibly in September we will participate in the Skyrunning World Championship in Scotland. And, traditionally, we will end the season with Ultra Pirineu. I also have a thought to race the Limone Skyrunning Extreme race in Italy in October, or the Red Bull 400 in Sochi, but we will decide that later.
TRAIL-RUN: Thank you so much for finding the time to chat and for your honesty! We wish you to stay yourselves, and to keep making all of us proud!
DMITRY: My pleasure! Thank you for the interesting questions.
Interview with Dmitry Mityev, third place finisher of UTMB®-TDS® 2018.

English translation - Elizaveta Ershova.